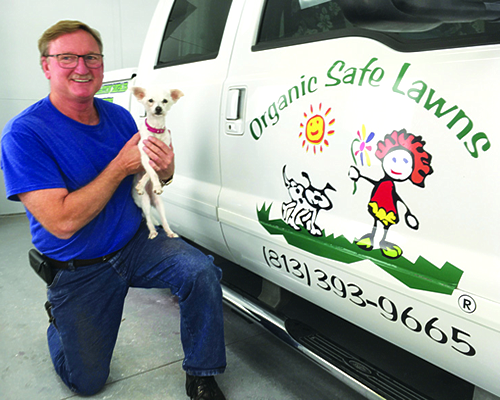 We're Committed to Keeping Your Children & 
Pets Safe from Harmful Chemicals!
Organic Safe Lawns Inc. was founded in January 2010 by James Schanstra when his wife Julie was diagnosed and treated for Non Hodgkin's large Cell Lymphoma Cancer. In 2003 James spent many hours researching the causes of this soft tissue cancer. The more he read and understood the more these soft tissue cancers pointed to chemical exposure and absorption through the skin and digestive tract. When moving to Florida full time for anticipated retirement, James continued his research and pinpointed his efforts on something he could help solve or at least help to control.
James researched how to manufacture and produce the necessary safe organic fertilizers and pesticides that would offer healthy turf and plant production here in Florida. By searching out organic fertilizer manufacture's here in the US and reviewing their products, James quickly realized that to be successful in this new venture he needed a team of knowledgeable professionals with a proven track record to manufacture and develop.
In his efforts James found a local organic fertilizer manufacturing company that was one of the pioneers in Florida's organic citrus and berry industry with a proven track record of over 30 years! Together we began testing and re-formulating our products for over 5 years with local sod growers and golf courses to ensure the venture's success.
Organic Safe Lawns Inc. now has designed and manufactured over 30 different organic fertilizer products that are owned and trademarked by Organic Safe Lawns Inc.